To begin our 2017 awards season we will be presenting our favorite songs of the year. I was attempting to think how I wanted to do this and I thought why not create a fake compilation album like studios used to do. So the creation of Y'ARR That Be What I Call Shanties is born. There is no real album, though you can buy all these songs and make yourself one on a playlist or burn a CD. To be eligible songs had to be released on an album that was released in 2017. So the following is not our favorite songs period but our favorite songs that were released on a CD this year. Also they are in order in how I would arrange them for an album, not an actual ranking order.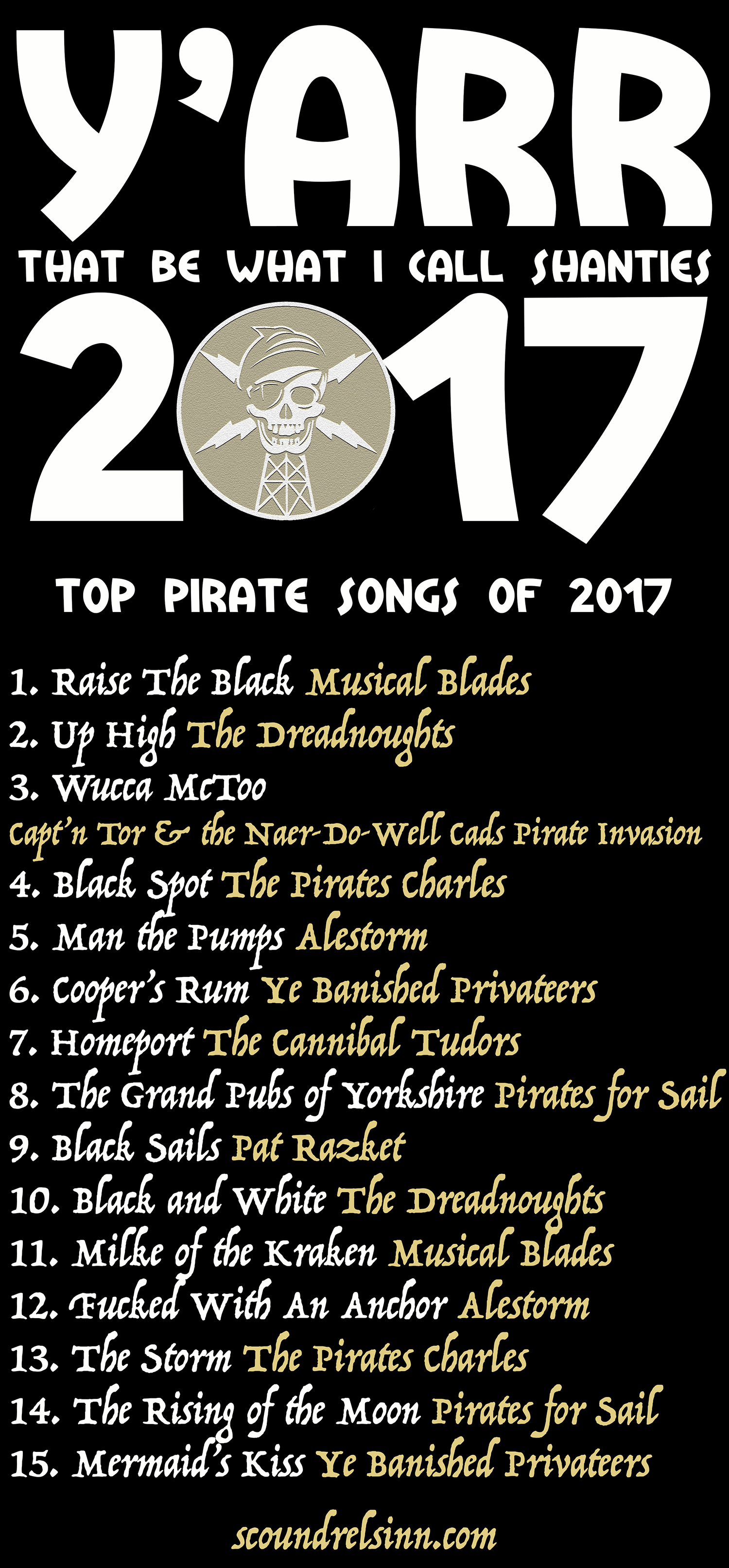 Raise The Black by Musical Blades from their album Raise the Black
The title song from the Musical Blades new album I feel gets you into the appropriate mind set for the pirate life. It sets the mood for the rest of their album and feel it does the same for this compilation as well. A brilliant and beautiful original song that the Blades are known for by now.
Up High by The Dreadnoughts from their album Foreign Skies
Another album starter that helps set the mood and tone for The Dreadnoughts new album. Not as much of a punk polka as most Dreadnought songs I find it a beautiful melody. It immediately invokes specific images in a listeners head and quickly became one of my favorite Dreadnought songs.
Wucca McToo by Capt'n Tor and the Naer-Do-Well Cads Pirate Invasion from their album Tavern Wenches
Tor and his mates always create such an atmosphere in their songs. A song LOVED by their fans it's just a fun and catchy number that will have you quickly singing along. Heya heya.
Black Spot by The Pirates Charles on their album Invictus
I almost didn't allow myself to include this song on the list as it walks the line of being previous released (it was a live version) but since I make the rules I made a caveat that songs only released in live from can be included if never done in the studio. The song most listeners know as "My Mother's favorite pirate song" has been a staple at PC live shows and we finally have a studio version that does it justice.
Man the Pumps by Alestorm from their album No Grave But The Sea
There a lot of songs loved by sea dogs on this album, but for me Man the Pumps is an unappreciated one. I'm not sure if there is a more "pirate" song on the album the Pumps. Alestorm always tend to have one song on their album that calls to seafaring tradition and from Grave this is that song. If the opening doesn't get you in the pirate mood maybe the pirate life isn't for you.
Cooper's Rum by Ye Banished Privateers on their album First Night Back In Port
I haven't seen a song received in this manner since I introduced some of you to Talderoy and Purple Tiki. This song is adored by all who listen to it and is a true masterpiece that the Privateers should be proud of. I'll have more to say on this song later in the week.
Homeport by The Cannibal Tudors on their album Burning Sensations
A bit bitter sweet to include this since the band has had some internal strife and we're not sure what the future holds for them. It's a song about our favorite place to listen to pirate music (the Sea Devil Tavern) and even features a cameo from Flipper. One of the best songs the Tudors have ever made and a shame we've yet to get to see them sing it in the location it references.
The Grand Pubs of Yorkshire by Pirates For Sail on their album Crabby Road
One of the more traditional albums this year was Crabby Road when compared to the rest. Yorkshire is a great drinking song which I can imagine is a great song live. Maybe not the most obvious choice for folks but this is my list and I love this song.
Black Sails by Pat Razket released as a Single
Pat Razket released two new singles this year and Black Sails does a great job of what Pat Razket is becoming known for, specific songs about that pirate life. As close to a rock ballad as I suppose we get in pirate music, you can hear this as a close out song at a concert with everyone holding their flags high.
Black and White by The Dreadnoughts from their album Foreign Skies
What one would consider a more traditional Dreadnoughts song, some strong punk polka with excellent lyrics. "Some say the devil is dead…" is some excellent stuff right there. It's hard not to bounce around while listening to this song.
Milk of the Kraken by Musical Blades from their album Raise the Black
Now it is known that I am a sucker for songs about the kraken, add some kick ass guitar riffs and powerful lyrics and you get this unexpected gem from the Blades. As I noted a bit more rock and roll than you usually get in a Blades song it fits in with the pirate-core style of The Pirates Charles and The Dread Crew of Oddwood.
Fucked With An Anchor by Alestorm from their album No Grave But The Sea
Maybe the most requested new song of 2017. For me it perfectly sums up the year of our lord 2017 and all our feelings towards it. Sure, a part of us are 5 years old and enjoy a song using the word fuck so freely but by gawd is it not catchy. Plenty of songs use the word fuck, not many do so so eloquently.
The Storm by The Pirates Charles from their album Invictus
By far the most ambitious song of 2017. You don't see bands write and release 12 minute epics anymore and I will always commend when one not only does it but does it as successfully as Charles does here. A beautiful song that tells a great story. By far my favorite part is when we get to I'm Alive!
The Rising of the Moon by Pirates for Sail from their album Crabby Road
This Irish classic is beautifully sung by Pirates for Sail. I think the vocals are perfect for the story and the guitar play perfect. One of my favorite compositions of 2017 that is the star of Crabby Road for me. A complete composition in my eyes or well ears.
Mermaid's Kiss by Ye Banished Privateers from their album First Night Back In Port
When I first saw the time on Mermaid's Kiss I was a bit in awe, thinking we have another Storm on our hands, and in the same year no less! What we actually have is something we don't see too often in the age of digital media, a surprise song not listed on the track. First we have Mermaid's Kiss, a beautiful close out to a fantastic album…and then we get a real treat. It ends with The Parting Glass, a version which has now become my favorite done by any band. How big of a fan am I of that song? It's gonna be part of the set list at my wake.
---