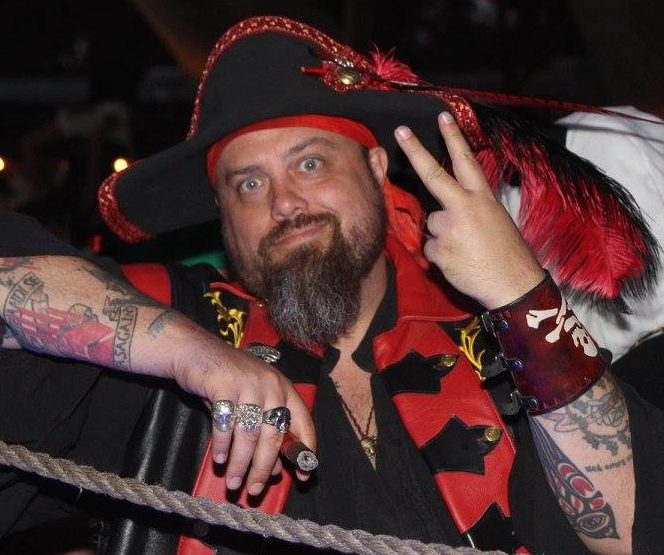 The proprietor of Scoundrel's Inn is Captain Jack Gonzo. Many years ago he moved into an apartment with Death and NSA. They quickly became three peas in a pod and shortly there after Death introduced him to the Maryland Renaissance Festival. There he encountered his first pirate band, The Pyrates Royale. For many years Jack would sit in the White Hart while drinking and singing along to the Pyrates. Then the Captain met a Governess and moved to the land of the Lone Star.
Once in the Lone Star State he began expanding upon his love for pirate music, a big part played by Bilgemunky. Every Monday he would listen to Bilgemunky Radio along with the other knife fighters and be exposed to numerous other pirate bands he had never heard. He would hear stories of events across the country and develop friendships with other listeners. Meanwhile at the Texas Renaissance Festival a new band was emerging and beginning to take over the faire, those bastards known as the Pride O' Bedlam. This would help create a large community of sea dogs and naer-do-wells for Gonzo to befriend.
Sadly Bilge retired the old radio and sailed away. During this time Captain Jack finished college, attempted a few jobs, but the passion was not there. The passion was for pirates and he wanted to share that passion with the world and thus he opened up Scoundrel's Inn.
Scoundrel's Inn is a haven for those who yearn for the high seas, a bottle of rum, and a wench (or three) upon their knee. Every Wednesday night from 9pm-11pm central Scoundrel's Inn will broadcast to help promote and expose people to pirate music from all over the world. We will review libations, movies, TV Shows, you name all in the name of promoting our pirate lifestyle.
So come on in, belly up to the bar, grab yourself a drink and enjoy your time at Scoundrel's Inn.
---